The Wupash Nebula is a minor location in Going Commando. It is a small nebula located on the route from Oozla to the Maktar Nebula. The location cannot be revisited, and features a single space combat mission, "Destroy Thugs-4-Less Fighters", with two waves of Thugs-4-Less fighters fought by Ratchet in his ship, the Star Explorer.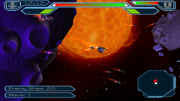 While traveling to the Maktar Resort in order to stop the Thugs-4-Less jamming array and visit the Galactic Gladiators arena, Ratchet was ambushed by the Thugs-4-Less, who had been hired by Angela Cross for her protection. The Thugs-4-Less sent nineteen fighters to attack him at first, and after all were defeated, they sent a further twenty. Ratchet defeated them all, and progressed on to the Maktar Nebula.
The Wupash Nebula is largely filled with asteroids of various sizes. Large, rocky asteroids or various shapes and sizes spin around in the area, while smaller, crystal asteroids can be destroyed by the Star Explorer, and often contain Raritanium. A glowing orange star is seen nearby, and in the distance, a dark, aquatic-looking planet.