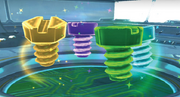 Special bolts are rare collectibles in the Ratchet & Clank series, appearing in all games aside from Deadlocked and Quest for Booty. They are larger bolts which are only found in locations that are hard to find and/or reach, or as rewards for certain challenges.
Special bolts include gold bolts, platinum bolts, titanium bolts, and hero bolts. Their appearance varies by game, though they are used to either to purchase certain extras, or upgrades and modifications to weapons, depending on the game.
Appearances
Ratchet & Clank (2002)

There are forty gold bolts hidden in each of the locations. They are used, along with a varying sum of bolts, to purchase gold weapons from a gold weapons room on either the Gemlik Base or in Novalis in challenge mode. Many are accessible on the first visit, while others can only be acquired after revisiting the location later with a required item.
Going Commando

Forty platinum bolts are found throughout each of the locations. They are the rarest form of currency in the Bogon Galaxy,[1] used to purchase weapon mods from Slim Cognito on Endako, Boldan, and Tabora. Many are found hidden in secret areas, though others are found as reward for arena combat, hoverbike racing, or space combat missions.
Up Your Arsenal
Forty titanium bolts are found throughout most the locations, with one as a reward for the Nerves of Titanium challenge on the VR deck, and five in total for completing each Qwark vid-comic with all 100 Qwark tokens collected. They are solely used for purchasing extra skins in the Special menu.
Going Mobile
Going Mobile exists in two different versions; Series 40 and Series 60, each with a different number of bolts. Both reward the player with a R.Y.N.O. upon collecting all of them however. The former has only nine titanium bolts, with only one requiring an item to collect it. The latter, Series 60, has a total of 31, with only thirty being required for the weapon. The final and extra bolt is in Security BIOS, which appears to only have three bolts (as per the hub menu), but a fourth is possible to obtain.
Size Matters
Titanium bolts are used to purchase skins.
Secret Agent Clank
Titanium bolts are used to purchase skins.
Tools of Destruction
32 gold bolts are found throughout each of the locations. They are used to purchase skins.
A Crack in Time
40 gold bolts are found throughout each of the locations and on certain moons. These are used to unlock skins. Once a gold bolt is acquired, bonus bolts are also awarded.
All 4 One
42 hero bolts are found on planet Magnus, and are required to unlock different skins. In each hero bolt location, four hero bolts appear, with one for each character: gold hero bolts for Ratchet, light blue hero bolts for Clank, green hero bolts for Qwark, and purple hero bolts for Nefarious.
Full Frontal Assault
20 gold bolts are found on each of the locations except for Zurgo's Lair of Doom.
Into the Nexus
12 Gold bolts are found trough the locations. They are used to purchase Omega weapon upgrades in challenge mode.
Ratchet & Clank (2016)
28 gold bolts are found hidden throughout the locations, including two along the hoverboard race tracks, with one as a reward for the optional mission "Find a way to the top of the waterfall" on Pokitaru. These are used to unlock extras. Extras are not purchased individually, rather, the number of gold bolts collected determining how many extras the player has unlocked. Gold bolts are also required to unlock vaults in the Insomniac Museum, though the first vault is unlocked after completing the game.
Behind the scenes
In early builds of Going Commando, including the demo release, gold bolts from the original Ratchet & Clank were used, instead of platinum bolts. [2]
References
Community content is available under
CC-BY-SA
unless otherwise noted.