Secret Agent Clank is a holovision series featured in Up Your Arsenal, Deadlocked, Going Mobile, and the game Secret Agent Clank. The show is a spy thriller starring Clank as the titular character, and pits him against the crime boss named Maxmillian, his archnemesis. It has also cast many other characters in various roles, including Ratchet as Secret Agent Clank's bumbling chauffer Jeeves, Skrunch as Clank's ally, and Courtney Gears as the baroness. It aired throughout the Solana and Bogon galaxies. The series is a spoof of James Bond.
The series began airing sometime prior to the events of Up Your Arsenal. Many characters, including President Phyronix and Dr. Nefarious, were fans of the show. In order to find more information from Courtney Gears, Clank filmed an episode starring her as a favor. After Dr. Nefarious was defeated, a Secret Agent Clank movie then premiered.
The series was the main setting of both Going Mobile and the game Secret Agent Clank. Going Mobile takes place within a Secret Agent Clank vid-comic, while the events of the game Secret Agent Clank is actually an episode of the show.[1]
History
Before Up Your Arsenal
The first episode of Secret Agent Clank filmed sometime prior to the events of Up Your Arsenal. In it, Clank defeated the mind-stealing snotbeasts that hailed from Dimension X. Dr. Nefarious followed the series since this episode, and believed it was real.[2] President Phyronix was also a huge fan of the show, and acted as a crazed autograph hound.[3]
A large number of episodes aired since, amounting to a collection of holo-vids.[4]
Up Your Arsenal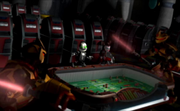 Ratchet and Clank watched an episode of Secret Agent Clank in their apartment in Endako. The episode took place in the Maktar Casino. In it, Secret Agent Clank, with a posse of hotbots, beat Maxmillian in a gambling match. Maxmillian then identified him as Agent Clank, and dispatched two ninja bots to fight him. Agent Clank grabbed a plate tossed to him by one of the hotbots, deflected the ninja bots' on weapons into them, and then tossed it to hit the chandelier just above Maxmillian. This caused the chandelier to fall and electrocute him. After this, Agent Clank, with a hotbot in tow, returned to Jeeves, reminding him to this time mind the ejector seat.[5]
Before traveling to Aquatos for "Infiltrate the underwater hideout", the director called Clank while traveling in the Star Explorer, expressing frustration that Clank had been absent from filming. When Clank tried to explain his absence, the director simply offered a bigger trailer and a daily oil massage to convince him to return, though Ratchet simply ended the transmission.[6] Later, after meeting Courtney Gears at the Annihilation Nation a second time, Clank agreed to star her in an episode. This led to "Film a Secret Agent Clank Episode", in which Clank filmed an episode titled "Maxmillian Strikes Back", starring Courtney Gears as a character known as the baroness. Ratchet was to appear in the episode, but he was fired after accidentally hitting the ejector seat, and replaced with Skrunch, Clank's sidekick.[2]
In "Maxmillian Strikes Back", Clank defeated Maxmillian's mini-ninja henchmen then chased Maxmillian out of a bar and through rush-hour traffic. After this, Clank had to put aside his differences with Skrunch to work together with a group of gadgebots to chase Maxmillian over several rooftops. Following this, Clank transformed into Giant Clank to defeat the Terror of Talos and some giant ninjas around a cityscape, and rescue the baroness. The director was extremely pleased with the episode, believing that it would be "box office raritanium" that even the critics would love.[2]
After defeating Dr. Nefarious, the Secret Agent Clank movie premiered. In this movie, Clank used a hoverboard to glide across the slope on the side of a snowy mountain, while fleeing ninja bots also using hoverboards. The two ninja bots attempted to ambush Clank, though Clank jumped over one of them to cause them to knock the other, while allowing the other to be torn apart with a Y.E.T.I.. After this, he reached the end of the slope to find Maxmillian in an Attack-Copter. He fired the BGAMD at Maxmillian, who caught the banana from the weapon and continued to gloat, only for Skrunch to lunge towards Maxmillian's Attack-Copter, causing it to crash.
The movie was watched by many of Ratchet and Clank's allies.
Going Mobile
As
Going Mobile
was never installed as part of the main series, its events are considered non-canon. Please see
Project:Bulletin board/Canon
for the wiki's coverage of canon.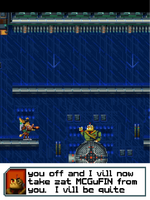 The events of Going Mobile took place within a Secret Agent Clank vid-comic, in which Ratchet and Clank were transported into a vid-comic on the phone you are holding in your hand[7]). This happened through an accidentally triggered bio matter converter device, and they had to make their way back out to the real world. With help from Al they managed to build a device to restore them to normality, but ran into Maximillian who was trying to use it for the same purpose to escape the vid-comic, until they managed to stop him.
Deadlocked
Prior to the events of Deadlocked, a Secret Agent Clank film titled Androids Are Forever was postponed, due to Clank's mission on board the Starship Phoenix.[8]
Secret Agent Clank remained a popular series while Clank was held captive. During market research to sell Ace Hardlight merchandise, Vox Industries brought in several children to test Ace Hardlight merchandise against other products. Subject 135 expressed interest in a Secret Agent Clank bobble head, while utterly rejecting the Ace Hardlight action figure.[9]
Following the events of Deadlocked, an episode titled "For Your Optical Sensors Only" was filmed. The episode starred Clank and Venus. Little is known about this episode.
Secret Agent Clank (game)
Section incomplete
This section is empty or needs to be expanded. You can help the
Ratchet & Clank
Wiki by
writing it
.
The events of the game Secret Agent Clank are an episode in the series.[1]
Characteristics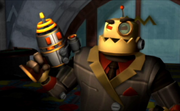 Secret Agent Clank is a spy thriller series that is a spoof of James Bond. It features the titular character, a womanizing spy, in many situations in which he overcomes odds simply by being lucky.[5][10] The series has cheesy dialogue, with Agent Clank having one-liners after defeating Maxmillian, and Maxmillian often giving monologues and gloating before getting the chance to strike Clank.[5][10]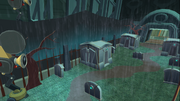 Many of the episodes take place within Maktar Casino, a location within the Maktar Resort. These are seen modeled as a movie set in Lot 42 and Lot 43 of Holostar Studios. The series has seen several other settings, including a cityscape also modeled in Holostar Studios, which features a variety of skyscrapers and buildings, as well its own army with tanks and Attack-Copters. Many other locations are visited in the game Secret Agent Clank.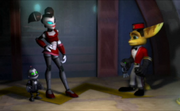 The cast mainly includes the titular character, a spy who works for the Agency, and his nemesis Maxmillian, a crime boss with ninja henchmen. Ratchet also played Jeeves, Clank's bumbling chauffeur, but was fired after repeatedly pressing the ejector seat during filming,[5][2] and replaced with Skrunch. Several hotbots also form Clank's entourage, and the series featured Courtney Gears as a guest star playing the baroness in "Maxmillian Strikes Back".[2] In the game Secret Agent Clank, the series had a wider cast of characters, including Ms. Cute Anastasia Bot as leader of the Agency, Clank's Agency Gadge-Bot allies, as well as a series of other villains, including Klunk as the main villain.
Behind the scenes
Mike Stout, who designed the Clank gameplay for Up Your Arsenal, was required to use elements from Secret Agent Clank when designing the segments. [11] Stout considered the Holostar Studios Clank segment to be his best, as the story of filming the movie made it interesting, and allowed him to get away with giving the level cheesier mechanics that were hard to explain in story otherwise.[12]
Citations
References
Video games
Websites
Videos