Rivet is a playable character in Rift Apart. She is a female lombax from another dimension who teams up with Clank while he is separated from Ratchet. Rivet makes her debut in Rift Apart when Clank gets separated from Ratchet, teaming up with him after finding him.
History
Little is known about Rivet's past. It is known that she has been part of the resistance opposing Emperor Nefarious. One day, when she found a secret entrance to the Emperor's tower, she attempted to sneak in alone, only to have a warbot sneak up on her and blast her arm off, only to suddenly leave.
It turned out the warbot was actually Kit. But later on through trial & error, they become a true team like Ratchet and Clank are.
Characteristics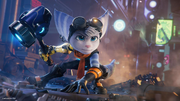 Appearance
Rivet is a lombax with white fur with pale blue stripes, thin eyebrows, a small light pink nose, and light blue eyes. The fur on her forehead resembles a tuft of hair. She wears a pair of goggles with blue lenses on her head, silver hoop earrings in each ear (two on the right and one on the left), a black jumpsuit with a belt, an orange scarf, a black glove with two orange stripes almost at the end, and black boots with an orange detail. She also has a yellow bionic right arm. Unlike the only other known female lombax, Angela Cross, she has a bushy tail. She also uses a hammer.
Personality
Like Ratchet, Rivet is heroic, adventure-loving, quick to act, and prone to making jokes in tense situations. However, being a loner has left her socially awkward, skeptical, sour, jaded, and being unacquainted with teamwork. Rivet suffers from some degree of PTSD due to losing her arm on a mission.
Behind the scenes
Reception
Rivet received a very positive reaction following her introduction in Rift Apart, both for her personality and for Jennifer Hale's voice acting performance. Steve Watts, writing for GameSpot, called Rivet the real star of Rift Apart and a strong addition to the series, to the point of wishing she had her own standalone game. He said that Hale's voice acting introduces a "disarming amount of emotional heft", successfully portraying tinges of self-doubt and loneliness even while Rivet maintains heroic determination.[1] Jonathon Dornbush, writing for IGN, concurred, praising Hale's performance and calling Rivet one of Insomniac Games' best-written characters, saying her distinctive personality made her more than simply a gender-swap of Ratchet.[2] Andrew Reiner, writing for Game Informer, said that the game delivered satisfying answers to who Rivet is and what happened to her, saying she energized the story, but felt that her moveset and arsenal in gameplay being a carbon-copy of Ratchet's was a missed opportunity.[3]
Citations
References
Community content is available under
CC-BY-SA
unless otherwise noted.