Ratchet & Clank: Full Frontal Assault (known as Ratchet & Clank: QForce in Europe and Australia) is an action game with tower defense and platform elements released as a 10th anniversary celebratory installment to the Ratchet & Clank series. It was released on November 27, 2012.[2][3] It is a downloadable PlayStation Network title on the PlayStation 3 and PlayStation Vita and it is also available on Blu-ray Disc for PlayStation 3 only.[2] It is a shorter adventure but features online and offline two player co-operative mode and online competitive multiplayer, as well as a significantly higher replay value than the previous short adventure, Quest for Booty.[4] The game returns to the typical Ratchet & Clank classic control style with a third-person camera, but also features a twist on tower-defense gameplay.[5] The game is the second spin-off game created by Insomniac Games.[6]
The game was developed by Insomniac Games North Carolina studio and the PlayStation Vita compatibility was created in collaboration with Tin Giant.[7]
Overview
Ratchet & Clank: Full Frontal Assault involves the QForce defending the galaxy in intergalactic conflict,[8] and revolves around the co-op and competitive mechanics of dropping into the battlefield, choosing your weapons and experiencing it with friends.
Ratchet & Clank 10th Anniversary
We wanted to make our own game for this tenth anniversary.

John Fiorito
For Ratchet & Clank's tenth anniversary, a worldwide special surprise was announced to celebrate the anniversary along with Ratchet & Clank Collection. This worldwide surprise was revealed to be Full Frontal Assault on May 30, 2012.[9]
Gameplay
Ratchet & Clank: Full Frontal Assault is about exploring the battlefield, making a base and annihilating your enemies.

Shaun McCabe, production director
Full Frontal Assault single-player features three playable characters: Qwark, Ratchet and Clank although in co-op, only two can be played at a time.[5] Full Frontal Assault is designed to have more replayability than Quest for Booty.[4] Medals are awarded based on the player's performance in the tower defense segments, encouraging the player to replay these as medals unlock new perks and armors for Ratchet, Clank and Qwark.[10][11] Skill Points return and unlock a variety of options with 117 skill points in total.[12] There are also other time-based challenges in the form of Insomniac Challenge Times for campaign mode.[13]
Gameplay mechanics
Players tailor the destruction to suit their tastes.

Ryan Clements, editor at IGN
Gameplay returns to the traditional third-person camera in classic Ratchet & Clank style. The gameplay is more classic action based Ratchet & Clank but also relates to the Siege gameplay in Ratchet & Clank: Up Your Arsenal and hoverboot action in Krell Canyon from Ratchet & Clank Future: A Crack in Time than previous corridor style gameplay.[1][14] This is primarily due to the new tower-defense element involving building and defending a base and a focus on combat.[15] The game features a full arsenal of weapons.[5] The weapons are primarily taken from previous games on the PlayStation 3 with some given a new twist to balance the game.[16]
Levels in Full Frontal Assault are set up in an open fashion. Weapons are dotted around the level and are hidden in pods, with the stronger weapons being harder to find. During the level, the player has to kill enemies while he traverses the level to find weapons. Near the end of the level, the tower-defense aspect is brought in and a "major assault" is unleashed. The player has to set up defenses around the level to defend against the onslaught, and defenses are brought with bolts obtained from killing enemies before the major assault.[17]
Each level is split into several stages. It begins with a Recon phase which is set aside for exploring the battlefield, obtaining weapons from QForce weapon pods and capturing nodes. The nodes produce a bolts-per-second income vital to later stages.[14] This is followed by a Squad phase which is used to prepare for attacking and defending options such as purchasing defense barriers, turrets and weapon upgrades. Finally the Assault phase is the result of the ongoing preparations where bases are attacked and the player must defend their base.[12]
Heads-up display
Various parts of the heads-up display can help the player such as the invasion detector. When the player's health is low the character glows red until health is restored.[18]
Multiplayer
Main article:
Ratchet & Clank: Full Frontal Assault multiplayer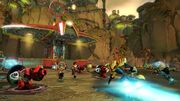 There is a competitive and co-operative multiplayer mode in Full Frontal Assault.[10] The mode works with two player splitscreen or on-line co-operative play in addition to an online-only competitive multiplayer mode. It features five levels set on three different planets with further levels and modes being available as a free download.[5]
The competitive multiplayer mode revolves around each player protecting their base and attacking the enemy base. The recon stage is used to compete against the opponent in a race to secure bolt-funding nodes and equipment. The squad phase then allows the player to chose what strategy to adopt - the balance between using resources to defend or attack. Finally the assault phase simultaneously begins the attacks forcing the player to stick with their strategy and attempt to defend their base while dealing as much damage to the enemy as possible.[12] The competitive mode can be played with two players competing against each other or with two teams of two players against each other.[19]
Multiplayer maps
Modes
Ratchet & Clank: Full Frontal Assault originally contained two competitive multiplayer modes in addition to co-operative campaign. Player versus player and two player versus two player modes are available in both ranked and custom matches. Insomniac Games announced they may add further modes in the future, but only after they had achieved the most out of the existing modes.[20] The first additional game mode was released in the free patch 1.05 on May 17, 2013 exclusive to PlayStation 3.[21] The game mode is Full Frontal Assault Mode which removes the phases and includes free defenses at the start.[22]
Graphics
Graphically the game uses the same engine as Ratchet & Clank: All 4 One.[1]
Trophies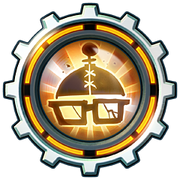 As with all PlayStation 3 releases the game features trophies. According to James Stevenson, Insomniac Games were trying to include a platinum trophy pre-release.[1] They later announced the game would include a full set of trophies, including a platinum trophy.[23] The game features 23 trophies including a platinum trophy and four hidden trophies.[24]
Cross-Play, Cross-Buy, and Cross-Save support
Ratchet & Clank: Full Frontal Assault was meant to feature Cross-Play and Cross-Save support allowing full compatibility between game saves and multiplayer with both the PlayStation 3 and PlayStation Vita system but currently does not. As part of Sony's new Cross-Buy program, the PlayStation Vita version of the game is available for free if the PlayStation 3 version is purchased.[25] The Cross-Play feature only work for online competitive play and not co-operative mode.[2]
Production
Development
The idea behind Ratchet & Clank: Full Frontal Assault was inspired by the hoverboot gameplay in Ratchet & Clank Future: A Crack in Time, in particular where the player moves freely around the Krell Canyon battlefield.[16] Siege mode from the highly successful[26] Ratchet & Clank: Up Your Arsenal multiplayer also heavily influenced the initial planning of Full Frontal Assault. A combination of these two concepts resulted in the Full Frontal Assault gameplay mechanics.[14][16]
The name was changed to Ratchet & Clank: QForce in Europe as the "dirty hidden messages" in the North America released titles don't translate very well.[2]
Plot development
One change made in development was the concept of having enemies attack the player instead of waiting for the player to arrive at their location, this influenced several gameplay and plot elements.[5]
[14][15][27][28] Closer to release it was revealed in a trailer and the trophy Zurgo's Revenge, Zurgo (or the Qwark Fan-Boy) would oppose the QForce.[29][30]
PlayStation Vita
While the game was produced and developed by Insomniac Games North Carolina studio, the PlayStation Vita compatibility was created in collaboration with Tin Giant.[7] On 19 November 2012 Sony Computer Entertainment America announced that the PlayStation Vita version of the game would be delayed until January 2013 and that a free downloadable skin pack would come with every PlayStation 3 purchase.[7] An update was made on February 7, 2013 explaining that there would be a further delay to the PlayStation Vita release with a new release date of Spring 2013.[31]
After this second delay it was announced that a free download of the Ratchet: Deadlocked high-definition re-release would be made available to North American owners of the PlayStation 3 version of Ratchet & Clank: Full Frontal Assault from the release of the PlayStation Vita version of Full Frontal Assault.[31] This offer was later extended to the PAL region including Europe and Australia who also received a voucher via e-mail in February 2013 to download MotorStorm: RC for free.[32] James Stevenson later announced on the PlayStation Blog that the Vita version would be released May 21, 2013 with the Ratchet: Deadlocked re-release near completion.[21]
Beta
A private-beta ran for PlayStation Network members who obtained a code from late August until September 9, 2012.[33] For North American members codes were given out in batches from the Insomniac Games website. European beta codes were given out through the PlayStation Network beta team for PlayStation Plus. The beta collected feedback from players, tested gameplay elements and also stress tested the game's servers.[33] The beta featured a single level playable in competitive multiplayer mode.
Soundtrack
The soundtrack for the game was composed by Michael Bross.[34] A non-lexical vocable version of I Am Glad, 'Cause I'm Finally Returning Back Home (better known as Trololo) by Eduard Khil also makes a brief appearance in the game.
Voice cast
The voice actors for Full Frontal Assault feature most actors reprising their roles from previous games in the series while some new character voices were also provided.
Plot
And the galaxy, well the galaxy has never been so… Boring!
Qwark was on the Starship Phoenix II with Ratchet and Clank complaining of boredom at how there was nothing to shoot in the Private Sector. In an attempt to entertain Qwark, Clank suggested that there were some "rogue" cleaner bots in the engine room. After destroying the robots, they were summoned to the bridge where a transmission from an enemy of Qwark's came in, explaining that several Planetary Defense Centers were going to be taken by Grungarian Marauders.[15] In response to this threat Qwark reassembled the QForce.[14][15][27][35]
The QForce then headed to the Korgon Refinery where they defended the QForce base, captured several QForce weapon nodes and reclaimed the planet. They were then able to restore the Planetary Defense Center's power by destroying the Grungarian generators.[36] They then received a second transmission from Qwark's enemy. In the transmission, the enemy revealed himself as the Qwark fan boy, Stuart Zurgo, who wanted revenge for being let down by Qwark so many times.[36]
Stuart Zurgo? He used to be captain of the Captain Qwark Cadets Club! You wrote some really disturbing fan fiction. (shudders)

Qwark FFA
The QForce then traveled to the Hidden City of Balkai After activating the West and East Key Nodes, they retook the Planetary Defense Center and rebooted the system. They repeated this feat at the GrummelNet Plasma Harvester before a distress call from The Plumber was received.[36] They traveled to the Korgon Refinery once again and helped fix his ship. At this point, they realized that The Plumber could have not have been on the Starship Phoenix II, so that they headed back to the ship and found it had been hacked. Zurgo revealed that he had been using a hologuise to disguise himself as The Plumber and had taken control of the ship. He also told them that he had taken over the weather grid and had created a blizzard at the Hidden City of Balkai. After destroying the weather beacons and ending a snow twister, the QForce activated and protected a reformatting device, escorting it to the Planetary Defense Center where it restored the planet's weather.[36]
After pinpointing Zurgo's location on Ebaro, the QForce then set out to Zurgo's Lair of Doom. After disabling an explosive, they encountered Zurgo in a massive mech and defeat him. While leaving the Lair of Doom with a subdued Zurgo, Qwark throws him off a bridge.[29][30]
Downloadable content
The first piece of the downloadable content, the Mini-Boss Skin Pack, was given as free downloadable content with the PlayStation 3 version of the game after the announcement of a delay to the PlayStation Vita version.[7] This makes Ratchet & Clank: Full Frontal Assault the first game in the series to have game-related downloadable content. Insomniac Games later hinted on Twitter that further maps may later be added to the game as they were fully committed to ensure the longevity of multiplayer.[37] On release day James Stevenson explained that there would be downloadable content released late in 2012 and lots more in January and February 2013 with skins and customization being paid for content while new maps and modes are available for free.[38] From release date a variety of skin packs were made available to download.[39] Free content will be released through game patches.[39]
Skin packs
A variety of skin packs were made available on release date, with further content to arrive in 2013.[39]
Available on release date
Later releases
Patches
Several patches have been released for Ratchet & Clank: Full Frontal Assault. All patches are free and most focus on fixing glitches and balancing gameplay with minor changes from fan feedback. Free content such as additional maps is also released through patches.[39][40]
Early patches
On 20 December 2012 the 1.02 patch for the PlayStation 3 version of the game was released fixing a variety of issues including gameplay balancing, bugs, glitches and responding to fan feedback.[39][40] The patch adds two more levels to the weaponry, introduces base teleporting in Campaign, enemy wave adjustments, visual indicators for hero upgrades and lowers the price of most base defenses.[41] Patch 1.03 was released in early January 2013 which fixed a rating reset issue.[42]
Patch 1.04
On February 7, 2013 the first free map, Metropolis, was released as part of the free 1.04 patch download of about 470 megabytes.[20][39][43]
In addition to introducing the Metropolis map several other changes were made including various bug fixes. Some gameplay changes were also made.[44]
Patch 1.05
On May 17, 2013 a patch was released adding a new game mode and map.[22] The additional map is the Molonoth Fields on Torren IV and the game mode was Full Frontal Assault Mode, which is a 2v2 mode with free defenses at the beginning of each game and no phases.[22] The leaderboard system was also tweaked to better reflect player skill.[22]
Critical reception
Ratchet & Clank: Full Frontal Assault received mixed to positive reviews.[45][46][47][48][49][50][51] Metacritic shows the game with an aggregated rating of 64 out of 100 from 32 reviews with GameRankings showing a similar aggregated score of 64.68% from 22 reviews.[45][46] Shortly before release the game received positive previews looking forward to release. Ryan Clements and Colin Moriarty from IGN wrote a preview at New York Comic-Con 2012 describing the game as a bold step for the franchise that promises to be a deep game with extensive replay value.[12] IGN's review later described the game as being slightly disappointing with every positive aspect of the game being balanced by a negative one. They praised the charm and unique identity of the game but criticized shooting and the in-game bolt economy giving it a 6.4 out of 10.[49]
NowGamer praised the game giving it an eight out of ten and stating that the unique tower defense twist worked well with the "tried-and-tested formula" and the Ratchet & Clank universe.[48] They gave the game the "Insane Fun" and "Dark Horse" awards.[48] In the review they claimed that it was an "almost-too-perfect blend of two styles of gameplay" and a natural extension of the franchise. The review criticized the longevity of the game, citing the game's limited maps as being it's largest issue, but also being justifiable due to the small price.[48] Insomniac Games later responded on Twitter, confirming that they had lots of support planned for ensuring longevity of the multiplayer.[37] Slant Magazine gave the game four out of five stars and noted that the weapons in the game were seemingly built for the game's chaotic action.[52]
PlayStation Universe gave the game an eight out of ten praising Ratchet & Clank: Full Frontal Assault's replay value and engrossing play while criticizing the game's soundtrack as being "dull."[53] Eurogamer gave Full Frontal Assault a six out of ten.[50] The review strongly criticized the game's high difficulty and punishing system when playing in single-player and claimed that the game's saving grace was the competitive multiplayer which was far more enjoyable but added that the game's character's could be replaced with almost any other characters and it would make it almost impossible to spot the 10-year lineage.[50]
The Official PlayStation Magazine gave the game a five out of ten, stating the action was frantic but lacked finesse and the resulting feeling was a frustrated single-player experience and a below-par Ratchet & Clank experience.[47] The review claimed that the game improved with multiplayer but that it still was not the type of game expected from a Ratchet & Clank title.[47] GameInformer gave Full Frontal Assault a 7.5 out of 10 claiming the game combined shooting elements of Ratchet: Deadlocked with the trendy tower-defense genre.[51] The review describes the vision of the game to be a perfect combination of third-person action and tower defense but the result is something that fails to fulfill the potential of either genre.[51]
Cover art and promotional images
Notes and references
↑ 1.0 1.1 1.2 1.3 http://blog.us.playstation.com/2012/07/18/ratchet-clank-full-frontal-assault-adds-a-tower-defense-twist/ retrieved 18:57, July 19, 2012 (UTC)
↑ 2.0 2.1 2.2 2.3 Cite error: Invalid <ref> tag; no text was provided for refs named PS_Blog_NA_release
↑ Tweet by @insomniacgames on Twitter.
↑ 4.0 4.1 http://blog.us.playstation.com/2012/05/30/ratchet-clank-full-frontal-assault-coming-to-psn-this-fall
↑ 5.0 5.1 5.2 5.3 5.4 http://ign.com/articles/2012/07/18/ratchet-clank-full-frontal-assault-adds-tower-defense retrieved 18:57, July 19, 2012 (UTC)
↑ 7.0 7.1 7.2 7.3 "Ratchet & Clank: Full Frontal Assault Coming to PS Vita in January" - Greg Phillips PlayStation Blog.
↑ http://www.insomniacgames.com/ratchet-clank-return-to-psn-this-fall-in-ratchet-clank-full-frontal-assault/
↑ http://www.ign.com/videos/2012/08/31/ratchet-clank-full-frontal-assault-developer-commentary-pax-2012
↑ 12.0 12.1 12.2 12.3 http://ign.com/articles/2012/10/12/nycc-ratchets-new-adventure-gets-us-very-excited
↑ 15.0 15.1 15.2 15.3 http://epdaily.tv/all/type-of/previews/ratchet-clank-full-frontal-assault-overview/
↑ Eurogamer Expo 2012 - A photo showing the low health glowing effect.
↑ 21.0 21.1 21.2 21.3 Cite error: Invalid <ref> tag; no text was provided for refs named FFA_updates
↑ Tweet by @insomniacgames on Twitter.
↑ Cite error: Invalid <ref> tag; no text was provided for refs named PSBlog_12/08/15
↑ http://news.softpedia.com/news/Ratchet-Clank-Full-Frontal-Assault-Qforce-Has-Tower-Defense-Mechanic-282117.shtml
↑ 31.0 31.1 "Ratchet & Clank Update: Full Frontal Assault and Deadlocked" - Greg Phillips PlayStation Blog
↑ 37.0 37.1 Tweet by @NowGamer_Feed on Twitter.
↑ http://blog.us.playstation.com/2012/11/27/ratchet-clank-full-frontal-assault-hits-the-ps3-system-today/
↑ 39.0 39.1 39.2 39.3 39.4 39.5 "Ratchet & Clank: Full Frontal Assault – Patch, Free Map Coming Soon" - James Stevenson, PlayStation blog
↑ 40.0 40.1 Tweet by @insomniacgames on Twitter.
↑ Tweet by @insomniacgames on Twitter.
↑ 45.0 45.1 "Ratchet & Clank: Full Frontal Assault" for PlayStation 3 - Metacritic. Retrieved 16:50, December 21, 2012 (UTC).
↑ 46.0 46.1 "Ratchet & Clank: Full Frontal Assault" for PlayStation 3 - GameRankings. Retrieved 16:50, December 21, 2012 (UTC).
↑ 48.0 48.1 48.2 48.3 Ratchet & Clank: Q-Force Review - NowGamer.
↑ 49.0 49.1 "Ratchet & Clank: Full Frontal Assault Review" - Scott Butterworth, IGN
↑ 51.0 51.1 51.2 "An Engaging And Flawed Side-Mission For QForce - Ratchet and Clank: Full Frontal Assault PlayStation 3" GameInformer.
External links