The re-imagined game describes
Captain Qwark
's account of events, while the re-imagined film is an in-universe holofilm. As Qwark is an unreliable narrator, and the holofilm is fiction, any events that contradict the original are non-canon (though those which correspond still apply). Please see
Project:Bulletin board/Canon
for the wiki's coverage of canon.
Felton Razz is a support character in Ratchet & Clank. He is the fongoid[1] twin brother of Ratchet's mentor Grimroth Razz, and moved from the Polaris Galaxy to the Solana Galaxy. Since then, he has been fishing on Pokitaru for about ten years.[2]
Felton Razz's character replaces the Resort Owner from the original Ratchet & Clank.
History
Pre-Ratchet & Clank
Felton Razz moved to the Solana Galaxy from Polaris, with his brother Grim. While they were young, Grim would dare his brother to do extreme things such as ride down the Torgoff Waterfall in a barrel, which would anger their father.[2]
Ratchet & Clank
When the blarg attacked Pokitaru with hydroharvesters to collect its fresh water, Ratchet and Clank came to Felton's aid after receiving a transmission from Grim in an infobot on Batalia. Felton gave them the mission "Find the technician", in which they had to escort him to the Pokitaru Tiki Lounge and Karaoke Bar, where a mechanic who could upgrade Ratchet's Class-g Star Jumper's weaponry to destroy the hydroharvesters had stopped by Pokitaru for a comic book convention. This mechanic was Al, who Ratchet and Clank were already familiar with.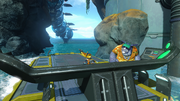 Throughout the escort trip, he would comment on Ratchet's fighting technique, and tell stories about he and Felton's vacations to Pokitaru, including a dare to ride down the Torgoff Waterfall in a barrel. Felton also said he had not seen Grim since they had moved.[2] Eventually, the three arrived at the resort lounge and met Al, who then traveled back to the ship on a boat, with Al discussing the comic book panel. Al installed Tesla Rockets to the Star Jumper, giving Ratchet the last mission here, "Destroy the hydroharvesters".
Characteristics
Felton has the same appearance as Grimroth Razz, though he wears an orange flowered Hawaiian shirt, a green cap, and flip flops. He has the same broken tusk and a very similar voice to Grim. According to Grim, Felton is a slacker.
Behind the scenes
Despite sounding very similar to his brother Grim, Felton Razz is voiced by Fred Tatasciore, a different voice actor. Felton Razz has the same outfit as the Resort Owner from the original Ratchet & Clank, who he replaces.
In the 2015 e3 trailer for the re-imagined Ratchet & Clank, Grimroth Razz appears in the background while Ratchet fought off the puffoids on Pokitaru. This means either that Grimroth would be originally escorted across the resort rather than Felton, or that Grim's model was used as a placeholder for Felton Razz at the time. Felton remarks in the game that the resemblance to Grim is "uncanny", suggesting that the developers were aware of how similar they would appear, and that Felton was made a different character later in development.
References