Biker Two[1] is a character in Going Commando. He is a member of the Desert Riders, a hoverbike gang, and Thugs-4-Less. He was also affiliated with Team Megacorp Racing, officiating their hoverbike races on Joba. Ratchet and Clank encountered him on the aforementioned planet, where he allowed them to participate in the Megacorp hoverbike race.
History
Going Commando
Biker Two joined the Desert Riders for the bake sales and made gloves for the members.[2] At some point, he became affiliated with Team Megacorp Racing and would require contestants wear biker helmets to participate.[3]
Ratchet and Clank encountered Biker Two on Joba during "Win the Megacorp Hoverbike Race". He initially mistook Clank for a crankshaft, as it was difficult for him to see without his glasses. As Ratchet already had a biker helmet obtained from Biker One on Barlow, Biker Two allowed him to participate in a race. The prize for the race was a pair of Charge Boots, which Biker Two wanted for his look, believing they would blend nicely with his leather chaps. After Ratchet won the hoverbike race, the biker was bummed about not keeping the boots, but he lamented that the boots would also go nice with Ratchet's outfit.[3]
Deadlocked
Biker Two later appeared in a Vox News report alongside Biker One, in which Juanita Alvaro tied them to Ratchet for participating in "illegal hoverbike gangs", excluding any context. Vox used a forged image for this segment, as it depicted Ratchet in his Marauder armor and Biker Two on Barlow, despite the fact that Ratchet was only with Biker Two on Joba.
Characteristics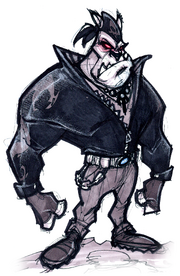 Biker Two is tall, has broad shoulders, small legs, and spiked teeth. He wears mostly black clothing, with a large black jacket over a white vest containing red insignia on the left shoulder, as well as jeans and a red helmet.
Biker Two has an affinity for fashion. He described his role in the Desert Riders as making "cute gloves for the guys",[2] and his sole motivation for wanting the Charge Boots was his belief that the boots would go well with his outfit.[3] In spite of this, he ironically wears pink glasses, which clash greatly with his outfit. He also claims to be unable to see well without them, as he mistook Clank for a crankshaft before wearing them.[3]
References